Alumni Interview : Elias Goelz, Analyst at Frontier Economics,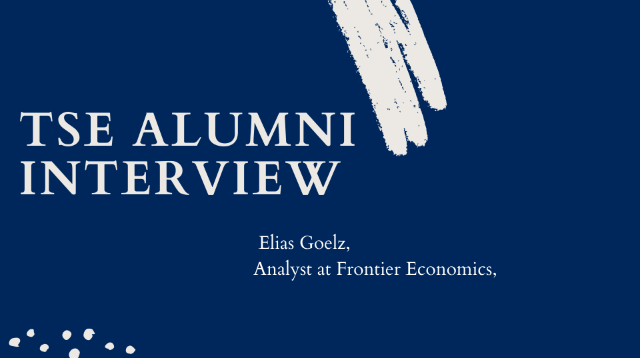 Désolé, ce contenu n'est pas disponible en Français
This interview was published and carried out by the TSEconomist.
1. What is your position today?
I am an Analyst at Frontier Economics, one of the leading economic consultancies in Europe.
2. What was your path from graduation to your current position? What would you say were the key elements that helped you make your choice?
I was lucky enough to be offered a job at Frontier right after I graduated. The key elements that helped to make my choice were a mix of personal interests and practical experiences I've made in past internships. At university I really enjoyed topics around industrial organisation, competition and regulatory economics. I find it fascinating how economics can help us to understand how markets work and how mergers or regulatory interventions can change the dynamics of markets. In particular, it appeals to me that these topics combine thinking inside models and strategic thinking with technical tasks. Past internships also helped me to find out what I enjoy doing most. On the one hand I've experienced what I do not want to do later in my job. On the other hand, I have figured out in which sector and in what kind of environment I want to work later. For example, in the M1 internship, a traineeship at the DG Competition of the European Commission, I got in touch with the practical application of competition economics. At the end of the M2, I then knew that I want to work in a vibrant environment with smart people, where I keep learning new things every day and that I want to use my microeconomic skills.
3. According to your professional experience, what are the most useful skills you obtained during your degree?
The most useful skills that I learned at TSE are really to think in economic models (even if there does not seem to be an economic argument, believe me, there is!), to critically assess the economic rationale behind models and arguments, work management skills and in particular to prioritise different tasks, and to practice presenting and convincing your listeners of your argument. These are all important skills which I use every day.
4. What advice would you like to give to students at TSE?
I wouldn't worry too much if you do not exactly know what you want to do in your job later. I would simply advise you to try out many different things. My experience is that people are best in topics they are most interested in. I found internships always useful, both because it is exciting and more importantly because you learn a lot about your interest and the way you want to work later.If you have any other questions, feel free to get in touch: elias.goelz@frontier-economics.com.
Would you like to do an interview and tell us your experience ? Feel free to contact us at alumni-tse@tse-fr.eu
Alumni Interview : Elias Goelz, Analyst at Frontier Economics,
2020-05-25 12:16:43
alumni.tse-fr.eu
https://alumni.tse-fr.eu/medias/image/14238693935da446828e4e8.png
2020-05-25 12:16:43
2020-05-25 10:59:00
Nina Balussou-Vergé
This interview was published and carried out by the TSEconomist.1. What is your position today?I  am  an  Analyst  at  Frontier  Economics,  one of the leading economic consultancies in Europe.  2.  What  was  your  path  from  graduation  to  your  current  position? What would you say were the key elements that helped you make your choice? I was lucky enough to be offered a job at Frontier  right  after  I  graduated.  The  key  elements that helped to make my choice were  a  mix  of  personal  interests  and  practical  experiences  I've  made  in  past  internships. At university I really enjoyed topics   around   industrial   organisation,   competition  and  regulatory  economics.  I  find  it  fascinating  how  economics  can help us to understand how markets work  and  how  mergers  or  regulatory  interventions  can  change  the  dynamics  of  markets.  In  particular,  it  appeals  to  me  that  these  topics  combine  thinking  inside   models   and   strategic   thinking   with   technical   tasks.   Past   internships   also  helped  me  to  find  out  what  I  enjoy  doing  most.  On  the  one  hand  I've  experienced  what  I  do  not  want  to  do  later in my job. On the other hand, I have figured out in which sector and in what kind   of   environment   I   want   to   work   later. For example, in the M1 internship, a   traineeship   at   the   DG   Competition   of  the  European  Commission,  I  got  in  touch  with  the  practical  application  of  competition  economics.  At  the  end  of  the M2, I then knew that I want to work in   a   vibrant   environment   with   smart   people,   where   I   keep   learning   new   things  every  day  and  that  I  want  to  use  my microeconomic skills. 3. According to your professional experience, what are the most useful skills you obtained during your degree? The  most  useful  skills  that  I  learned  at  TSE are really to think in economic models (even if there does not seem to be an economic  argument,  believe  me,  there  is!),  to  critically  assess  the  economic  rationale  behind  models  and  arguments,  work   management   skills   and   in   particular  to  prioritise  different  tasks,  and  to  practice  presenting  and  convincing  your  listeners  of  your  argument.  These  are  all  important  skills  which I use every day. 4. What advice would you like to give to students at TSE?I wouldn't worry too much if you do not exactly know what you want to do in your job later. I would simply advise you to try out many different things. My experience is that people  are  best  in  topics  they  are  most  interested  in. I found  internships always useful, both because it  is  exciting  and  more  importantly  because you learn a lot about your interest and the way you want to work later.If you have any other questions, feel free to get in touch:  elias.goelz@frontier-economics.com.Would you like to do an interview and tell us your experience ? Feel free to contact us at alumni-tse@tse-fr.eu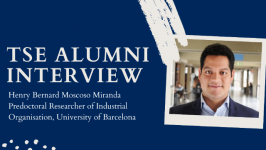 https://alumni.tse-fr.eu/medias/image/thumbnail_4381482505e5e3f5ea41fe.png
Veuillez vous connecter pour lire ou ajouter un commentaire