Women in European Economics with Emmanuelle Auriol
Women in European Economics with Emmanuelle Auriol
2020-11-13 17:30:00
2020-11-13 18:30:00
https://alumni.tse-fr.eu//medias/image/thumbnail_7084870355faaaca219ce4.jpg
"Women in European Economics": Launching the TSE Women in Economics seminar with a presentation by Emmanuelle Auriol (TSE) on the status of women in the economics profession.Professor Auriol will be talking about academic hierarchies, the proportion of women in different positions in European universities and the problem of "leaky pipelines", the topics discussed in her paper "Women in European Economics" (https://cutt.ly/ggZHyIX).The event is open to everyone (of all genders) who wants to participate! We are excited to start a seminar where we can all learn about the importance of research on gender and economics. Find the zoom invitation below:Topic: Women in Economics SeminarTime: Nov 13, 2020 05:30 PM Amsterdam, Berlin, Rome, Stockholm, ViennaJoin Zoom Meetinghttps://zoom.us/j/91884842917?pwd=UDR4OXNyMHFsNFNFdzhLaEI3aUR6Zz09Passcode: 123456
https://alumni.tse-fr.eu/event/women-in-european-economics-with-emmanuelle-auriol/2020/11/13/388
La date limite de clôture des inscriptions est passée.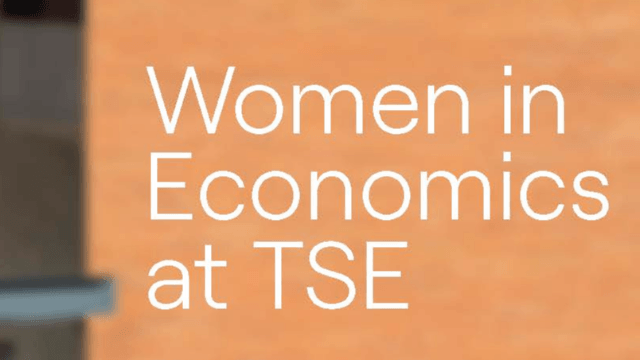 Désolé, ce contenu n'est pas disponible en Français
"Women in European Economics": Launching the TSE Women in Economics seminar with a presentation by Emmanuelle Auriol (TSE) on the status of women in the economics profession.
Professor Auriol will be talking about academic hierarchies, the proportion of women in different positions in European universities and the problem of "leaky pipelines", the topics discussed in her paper "Women in European Economics" (https://cutt.ly/ggZHyIX).
The event is open to everyone (of all genders) who wants to participate! We are excited to start a seminar where we can all learn about the importance of research on gender and economics.
Find the zoom invitation below:
Topic: Women in Economics Seminar
Time: Nov 13, 2020 05:30 PM Amsterdam, Berlin, Rome, Stockholm, Vienna
Join Zoom Meeting
https://zoom.us/j/91884842917?pwd=UDR4OXNyMHFsNFNFdzhLaEI3aUR6Zz09
Passcode: 123456