Coffee Talk 1: Inequality and Tax Progressivity
Coffee Talk 1: Inequality and Tax Progressivity
2019-11-18 15:51:00
2019-11-18 15:56:00
https://alumni.tse-fr.eu//medias/image/thumbnail_6451401645dd2a2738b9ce.png
We are delighted to invite you all to the first The TSEconomist Coffee Talk on November 21th to discuss about inequalities and tax progressivity.  - Laurence Kotlikoff from Boston University, one of the auhor of The New York Times- From 12:45 to 2pm.-  November 21, 2019- MC202 After an introduction of the topic by Laurence Kotlikoff, a discussion will take place with your participation.☕ Coffee is provided.☕Please tell us if you participate on this event : https://www.facebook.com/events/3024025594293113/ --- Laurence Kotlikoff is a professor of economics at Boston University, president of Economic Security Planning, and a New York Times best-selling author. His research interests are climate policy, inequality, tax reform, Social Security, banking, growth, and much more. "Economics matters — personally, nationally, globally. My goal is making economics useful at all levels." L.Kotlikoff
https://alumni.tse-fr.eu/event/coffee-talk-1-inequality-and-tax-progressivity/2019/11/18/359
La date limite de clôture des inscriptions est passée.
Désolé, ce contenu n'est pas disponible en Français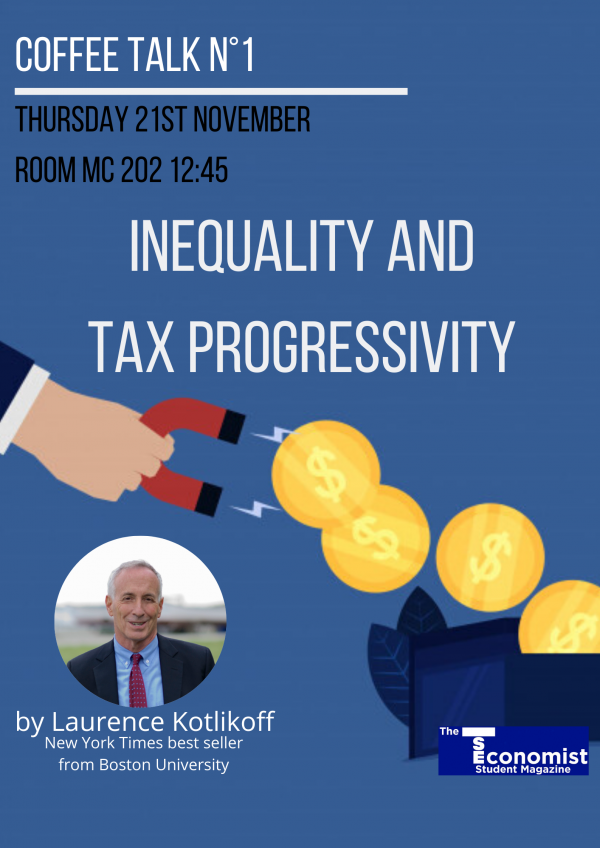 We are delighted to invite you all to the first The TSEconomist Coffee Talk on November 21th to discuss about inequalities and tax progressivity.
- Laurence Kotlikoff from Boston University, one of the auhor of The New York Times
- From 12:45 to 2pm.
- November 21, 2019
- MC202
After an introduction of the topic by Laurence Kotlikoff, a discussion will take place with your participation.
☕ Coffee is provided.☕
Please tell us if you participate on this event : https://www.facebook.com/events/3024025594293113/
---
Laurence Kotlikoff is a professor of economics at Boston University, president of Economic Security Planning, and a New York Times best-selling author.
His research interests are climate policy, inequality, tax reform, Social Security, banking, growth, and much more.
"Economics matters — personally, nationally, globally. My goal is making economics useful at all levels." L.Kotlikoff