Business Talk #4 - Economics and economists at Google
Business Talk #4 - Economics and economists at Google
2020-01-08 17:00:00
2020-01-08 18:00:00
https://alumni.tse-fr.eu//medias/image/thumbnail_1098891805df3900a5be0c.png
Auditorium A3 (new TSE building)
There is a limited number of places, don't forget to register: https://doodle.com/poll/zau4925t83pmshqf  "I keep saying the sexy job in the next ten years will be statisticians. People think I'm joking, but who would've guessed that computer engineers would've been the sexy job of the 1990s?"Hal Varian, Google's Chief Economist.  https://www.youtube.com/watch?v=Mlb8u8ftge4 Come to the next Business Talk and discover Hal Varian's insight on Economics and Economists at Google. This talk will be held on Wednesday, January 8th at 5 p.m. in the Auditorium A3 of the new TSE building.You will have the opportunity to meet the speaker afterwards: some drinks and some nibbles will be available after the Business Talk! We look forward to seeing you on the 8th! 
https://alumni.tse-fr.eu/event/business-talk-4-economics-and-economists-at-google/2020/01/08/363
La date limite de clôture des inscriptions est passée.
There is a limited number of places, don't forget to register: https://doodle.com/poll/zau4925t83pmshqf
"I keep saying the sexy job in the next ten years will be statisticians. People think I'm joking, but who would've guessed that computer engineers would've been the sexy job of the 1990s?"
Hal Varian, Google's Chief Economist.
https://www.youtube.com/watch?v=Mlb8u8ftge4
Come to the next Business Talk and discover Hal Varian's insight on Economics and Economists at Google. This talk will be held on Wednesday, January 8th at 5 p.m. in the Auditorium A3 of the new TSE building.
You will have the opportunity to meet the speaker afterwards: some drinks and some nibbles will be available after the Business Talk!
We look forward to seeing you on the 8th!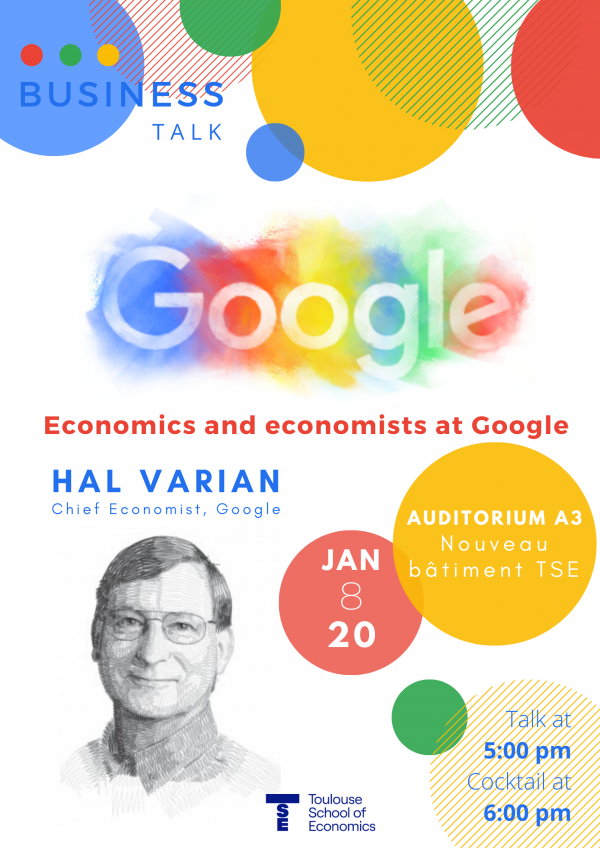 Diffusé sur :
Magistère d'économiste statisticien, Membres Conseil d'Administration, Etudiants - Magistère d'Economiste - Statisticien, PARIS TSE NETWORK, Master 2 Economics of Markets and Organization, TSE Junior ...