2019 Graduation Ceremony
2019-11-30 15:00:00
2019-11-30 19:30:00
https://alumni.tse-fr.eu//medias/image/thumbnail_18582998645d5cf08f69f62.jpg
Amphitheatre Despax - Campus Arsenal
2 rue du Doyen Gabriel Marty
Toulouse
31000
FR
Registrations are open ! Registration is compulsory and will close on November 1st. When you register, PLEASE book a seat for you and for your guests in the same registration. (Not 2 seats and 2 weeks after 2 more seats, don't worry there are enough seats for every graduates + 3 people). PLEASE indicate the name and surname of your guests. You can have 3 guests maximum. People that are not registered, will not be allowed to attend the Ceremony. Dear 2018-2019 2nd year Master's Degrees students,We are delighted to inform you that TSE will organize your graduation ceremony on :Saturday November 30, 2019 at 3.30pm. Despax AmphitheaterPlease come at 2:45pm so you can get a brief about how the ceremony will take place (and your hat!).After the ceremony, we will invite you to join the cocktail offered by the school in the Arsenal main hall. The ceremony will be recorded and the video will be available on Youtube shortly after the event.More information to come!We look forward to celebrating your graduation with you! ~ EVENT STRICTLY OPEN TO MASTER 2 STUDENTS 2018/2019 ONLY ~The TSE team For any enquiry, please contact alumni-tse@tse-fr.eu
https://alumni.tse-fr.eu/event/2019-graduation-ceremony/2019/11/30/343
La date limite de clôture des inscriptions est passée.
Désolé, ce contenu n'est pas disponible en Français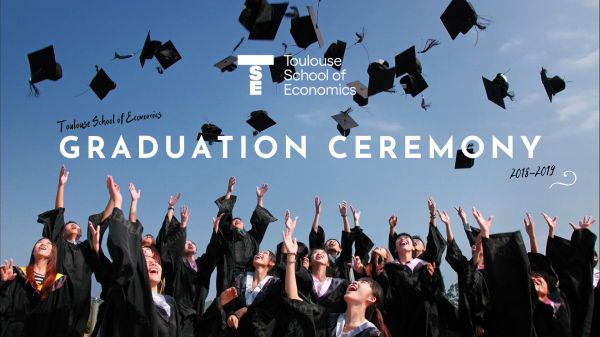 Registrations are open !
Registration is compulsory and will close on November 1st.
When you register, PLEASE book a seat for you and for your guests in the same registration. (Not 2 seats and 2 weeks after 2 more seats, don't worry there are enough seats for every graduates + 3 people). PLEASE indicate the name and surname of your guests. You can have 3 guests maximum. People that are not registered, will not be allowed to attend the Ceremony.

Dear 2018-2019 2nd year Master's Degrees students,

We are delighted to inform you that TSE will organize your graduation ceremony on :
Saturday November 30, 2019 at 3.30pm.
Despax Amphitheater

Please come at 2:45pm so you can get a brief about how the ceremony will take place (and your hat!).


After the ceremony, we will invite you to join the cocktail offered by the school in the Arsenal main hall.
The ceremony will be recorded and the video will be available on Youtube shortly after the event.

More information to come!

We look forward to celebrating your graduation with you!
~ EVENT STRICTLY OPEN TO MASTER 2 STUDENTS 2018/2019 ONLY ~
The TSE team