11th bi-annual Postal Economics Conference on E-commerce, Digital Economy and Delivery Services
11th bi-annual Postal Economics Conference on E-commerce, Digital Economy and Delivery Services
2020-04-02 08:00:00
2020-04-03 18:00:00
https://alumni.tse-fr.eu//medias/image/thumbnail_3578332385db6e7d39a047.png
Manufacture des Tabacs, TSE
  Scope and objective:This conference, co-sponsored by the TSE-Partnership Foundation and Le Groupe LA POSTE welcomes submissions of recent research contributions to the conference topics whether theoretical, econometric, or policy oriented. It is intended to foster exchanges between professionals and academic researchers.   Organizing committee:   Claire Borsenberger (Groupe La Poste), Catherine Cazals (TSE),   Helmuth Cremer (TSE), Jacques Crémer (TSE), Eric Gautier (TSE), Denis Joram (Groupe La Poste), Bruno Jullien (TSE), Jean-Marie Lozachmeur (TSE), John Panzar (Northwestern University), Patrick Rey (TSE), Jean Tirole (TSE).   Conference secretariat: Christelle FauchiéFor further information please send an e-mail to postconf@tse-fr.euPlease fill in this registration form and submit it by March 20th, 2020 : https://www.tse-fr.eu/registration-form11th-postal-economics-conference2020
https://alumni.tse-fr.eu/event/11th-bi-annual-postal-economics-conference-on-e-commerce-digital-economy-and-delivery-services/2020/04/02/354
La date limite de clôture des inscriptions est passée.
Désolé, ce contenu n'est pas disponible en Français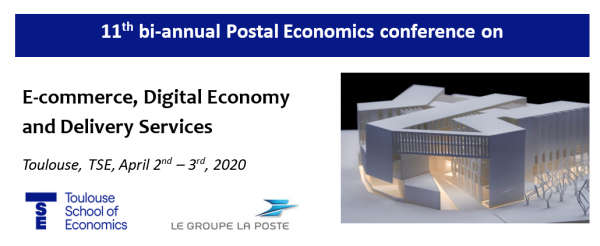 Scope and objective:
This conference, co-sponsored by the TSE-Partnership Foundation and Le Groupe LA POSTE welcomes submissions of recent research contributions to the conference topics whether theoretical, econometric, or policy oriented. It is intended to foster exchanges between professionals and academic researchers.

Organizing committee:
Claire Borsenberger (Groupe La Poste), Catherine Cazals (TSE), Helmuth Cremer (TSE), Jacques Crémer (TSE), Eric Gautier (TSE), Denis Joram (Groupe La Poste), Bruno Jullien (TSE), Jean-Marie Lozachmeur (TSE), John Panzar (Northwestern University), Patrick Rey (TSE), Jean Tirole (TSE).

Conference secretariat: Christelle Fauchié
For further information please send an e-mail to postconf@tse-fr.eu
Please fill in this registration form and submit it by March 20th, 2020 : https://www.tse-fr.eu/registration-form11th-postal-economics-conference2020