Résumé
Citizen from the Dominican Republic. Recent honors graduate in Economics from London. Proven acumen in sophisticated analyses of economic processes through sound understanding of economic theory, and empirical applications of it. Doing a Master 1 in Economics and Statistics at the Toulouse School of Economics. Currently interested in academic research, and applied statistics/econometrics.
Expériences professionnelles
Research associate
INNOVATIONS FOR POVERTY ACTION , Santo domingo - CDI
De Mai 2017 à Aujourd'hui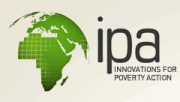 Markets & economics contributor
THE FINANCE READER
De Septembre 2015 à Aujourd'hui
Production of analyses in business, finance & economics. I contribute about 2 articles a month, focusing on economics, and more specifically, political economy.
Parcours officiels
TSE – Master 2 – Public Policy and Development (PPD) – 2017

TSE – Master 1 – Econométrie et Statistique – 2016

Espagnol - Langue maternelle
Anglais - Langue maternelle
Français - Technique